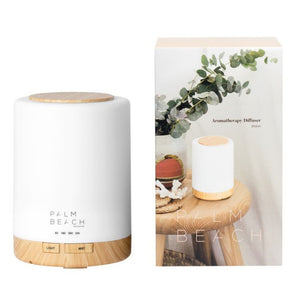 Palm Beach Collection's Aromatherapy Diffuser will help you experience all the benefits of Essential Oils: Tension & stress relief, mind &  body relaxation, skin hydration, improvement in quality of sleep & refreshing the air in your home.  
Ultrasonic technology generates a ultra-fine mist that adds moisture to the air. No heating element or chemicals involved in the use of this Diffuser. Operates up to 6 hours continuously. Automatically switches off when water level is low.
How to use: Fill up the water reservoir up to the fill line. Add 2-8 drops of 100% pure essential oils, then put the plastic cover back on, and select your time setting. For cleaning and usage tips, read instruction manual inside box.